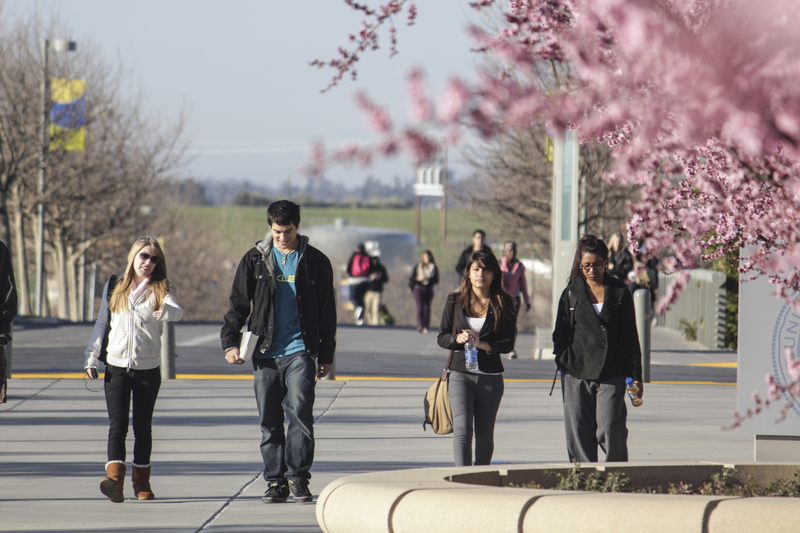 Campus Advocacy, Resources and Education (CARE) provides prevention education for the UC Merced community to achieve an environment free from the threat of sexual violence, dating/domestic violence and stalking. CARE provides free, confidential and knowledgeable support for those impacted by sexual violence, dating/domestic violence and stalking. CARE encourage the UC Merced community to step in and speak up against a culture that allows sexual violence, dating/domestic violence and stalking to occur.
The Office of Campus Climate was created to coordinate and support strategic initiatives that promote diversity and inclusion at UC Merced for all campus constituents. Director De Acker works with others throughout the campus on accountability, infrastructure and resources that support inclusive excellence, where equal opportunity, mutual respect and cross-cultural collaboration are fostered. The office also develops an integrated conflict-management system for faculty, staff and students to voice their concerns, work to resolve issues and contribute to a conflict-competent organization.
Disability Accommodations
Disability Services at UC Merced exists to ensure the institution has a mechanism for students, staff and faculty to provide equal access to education for students living with disabilities.  UC Merced Accommodation Management Services provides services to all employees in need of reasonable accommodation for a health condition or religious belief in order to perform the essential functions of their jobs.  
We welcome students and faculty and staff members from all backgrounds, and our goal is that everyone here feels respected and valued. That philosophy is at the core of what we do.
UC Merced has a compelling interest to ensure people from all walks of life understand that access to the university is possible and strongly promoted. The campus community has undertaken numerous activities and initiatives to enhance and improve an already strong culture of inclusion.
The UC Merced Early Childhood Education Center provides a high quality program to the parents of young children working at UC Merced and community members of Merced, within a safe, happy, creative and nurturing environment.
We are committed to respect each individual (staff, parent/guardian and child) by understanding each person's individual needs. We provide developmentally appropriate activities and environments that make quality learning experiences engaging and natural for children.
The UC Merced makes every effort to respect the privacy of individuals. The right to privacy is declared in the California Constitution and as such, our campus makes every effort to integrate best practices at all levels across the organization.
INSIGHT offers employees and their household dependents three counseling sessions every six months with a licensed professional to assist with work/life concerns. Employees are also entitled to a free 30-minute legal and financial consultation. All services are private and confidential.
These are private, clean and safe areas for the purpose of expressing breast milk and/or breastfeeding. The space will be in close proximity to the nursing mother's work area, generally not more than a 5 to 7 minute walk.
The Office of the Ombuds is designed to serve as a safe, alternative channel for confidential, neutral and informal dispute resolution services. Faculty, lecturers, postdoctoral scholars, staff, students and anyone else with a campus-related concern may use the Office of the Ombuds to discuss workplace issues, interpersonal conflicts, academic concerns, bureaucratic slow-downs and other problems. Ombuds services are always voluntary and reports do not constitute a formal notice to the university. 
Reflection Room
This is a space where people from all faiths, beliefs and backgrounds can reflect in any way that is meaningful to them. The Reflection Room is located in Student Services Building, Room 255.